What is this? Who are you?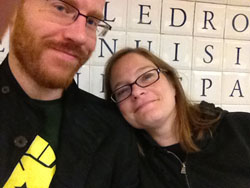 Panther Scouts is a digital comic about cats that go to school and participate in scouting. Written and drawn by Aaron Veenstra and Emily Kircher, and starring their cats, Panther Scouts teaches important life lessons for kittens and young cats, as well as their parents. Some of our primary influences are DuckTales, Moral Orel, My Little Pony, and Batman: L'il Gotham. New issues will be available for free here on our site, with high-res versions available for 99¢ at the major digital comic retailers, and will come out every six weeks. We hope you enjoy it.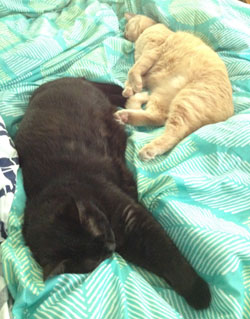 Some answers to questions:
Can I read Panther Scouts on all my various devices?
We make new issues available in a variety of formats — PDF and CBZ here, plus high-res PDF on Etsy and high-res iBooks from the iTunes store. So yes, you can.
Can my cats join Panther Scouts?
Unfortunately, there is no Panther Scouts pack in your area yet, but maybe someday!