• • • Made just for you on May 28, 2014 •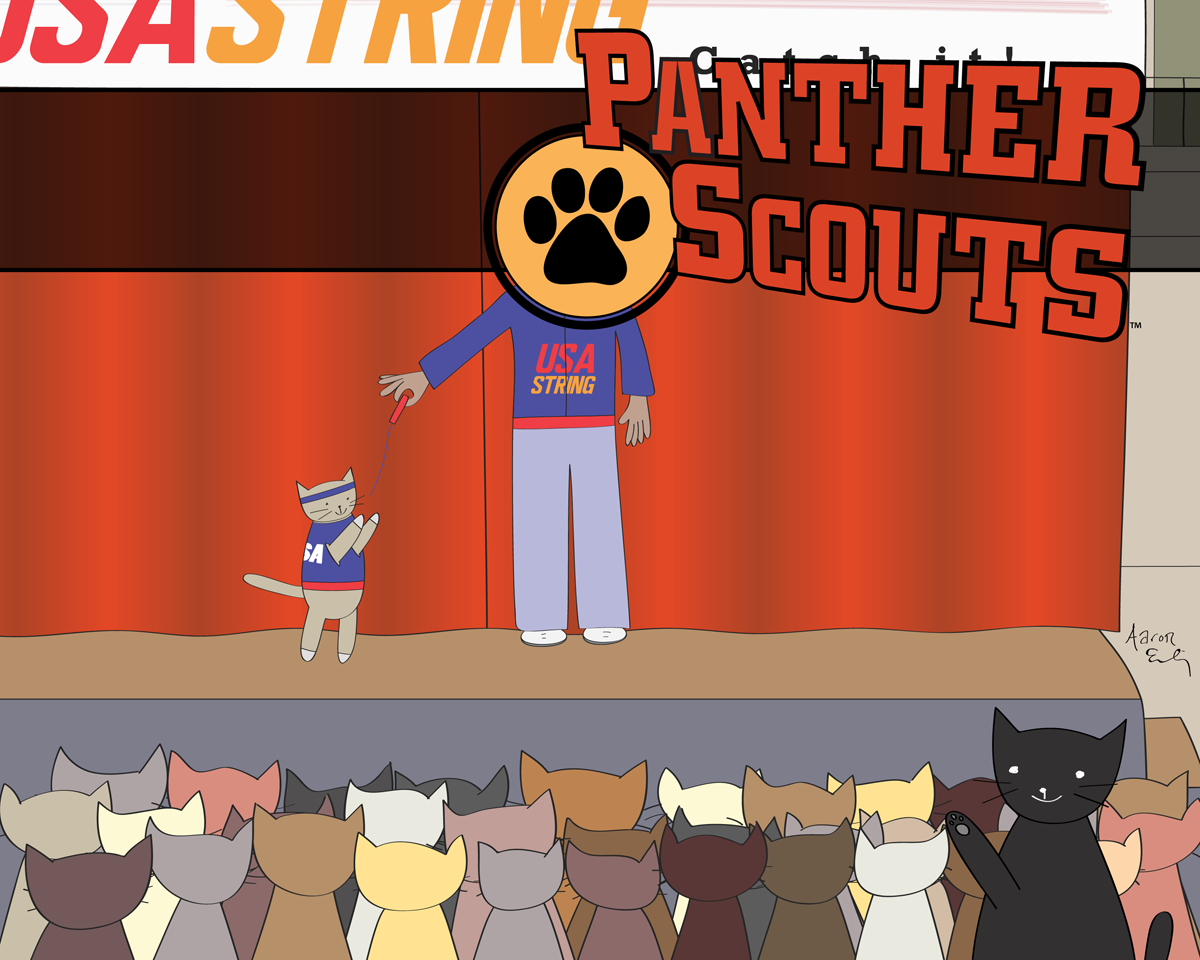 It's field trip time at Kitty Country Day! Gobi, the four-time national champion string cat, is coming to town to promote exercise and play with the national cat pastime. With tryouts for the school string team on their way, the Scouts' excitement is at a fever pitch. But will the most thrilling day of Pimper's life be ruined by a challenge from a rival Panther Scouts pack? (Story and art by Aaron Veenstra & Emily Kircher.)
Low res (free): CBZ • PDF • Issuu • Read in browser
High res (99¢): ComiXology • iBooks
---
---
• • • Made just for you on October 30, 2013 •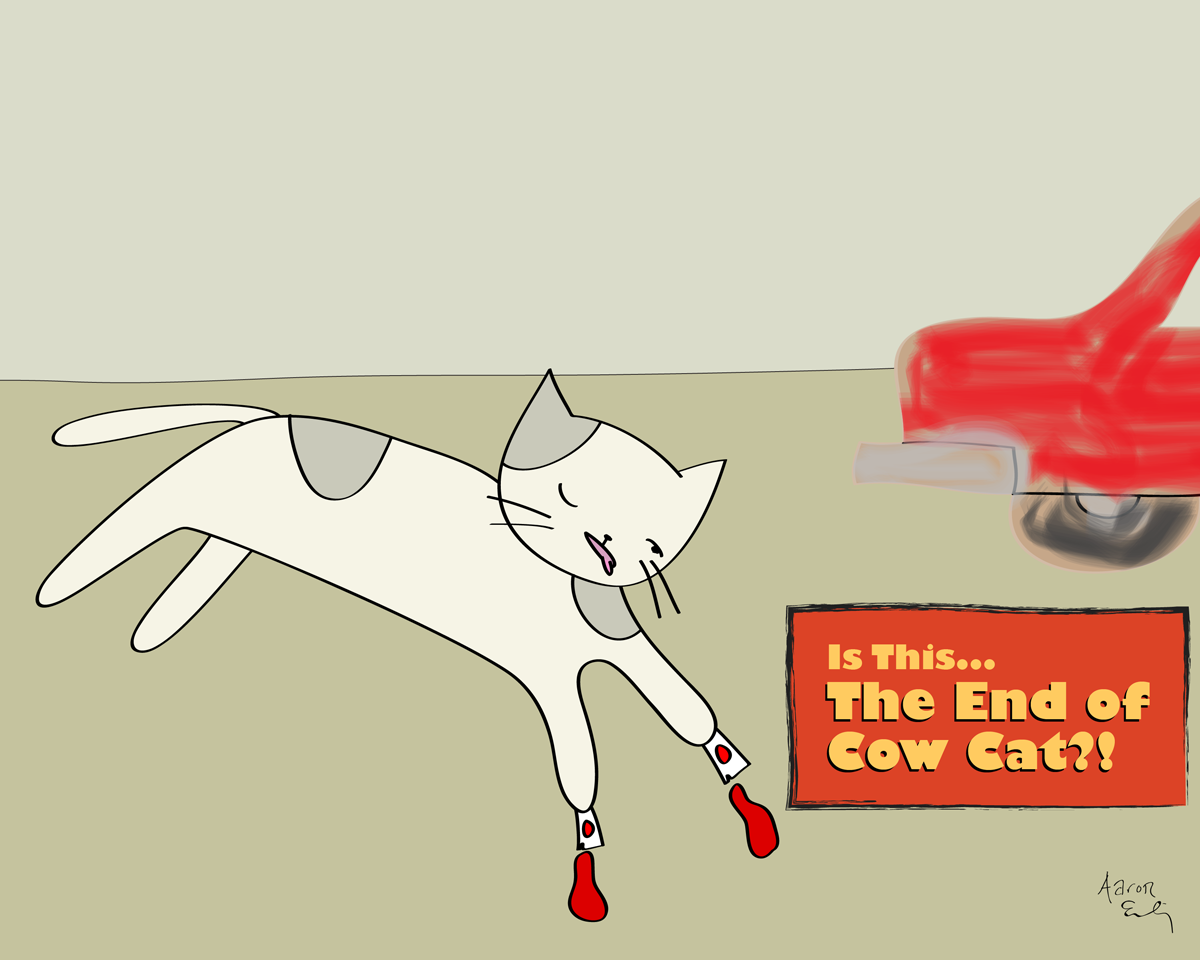 A car accident rocks the peaceful halls of Kitty Country Day! With danger lurking for all of their classmates and students around the school, the Panther Scouts see an opportunity to help the community — and to earn a valuable new badge. It'll take all their creativity and skill to teach their class how to be safe in the street, and one of the scouts may pay the ultimate price. (Story and art by Aaron Veenstra & Emily Kircher.)
Low res (free): CBZ • PDF • Issuu • Read in browser
High res (99¢): ComiXology • iTunes
---
« Be Kind to the New Cat
Cue the Strings »
---
• • • Made just for you on September 18, 2013 •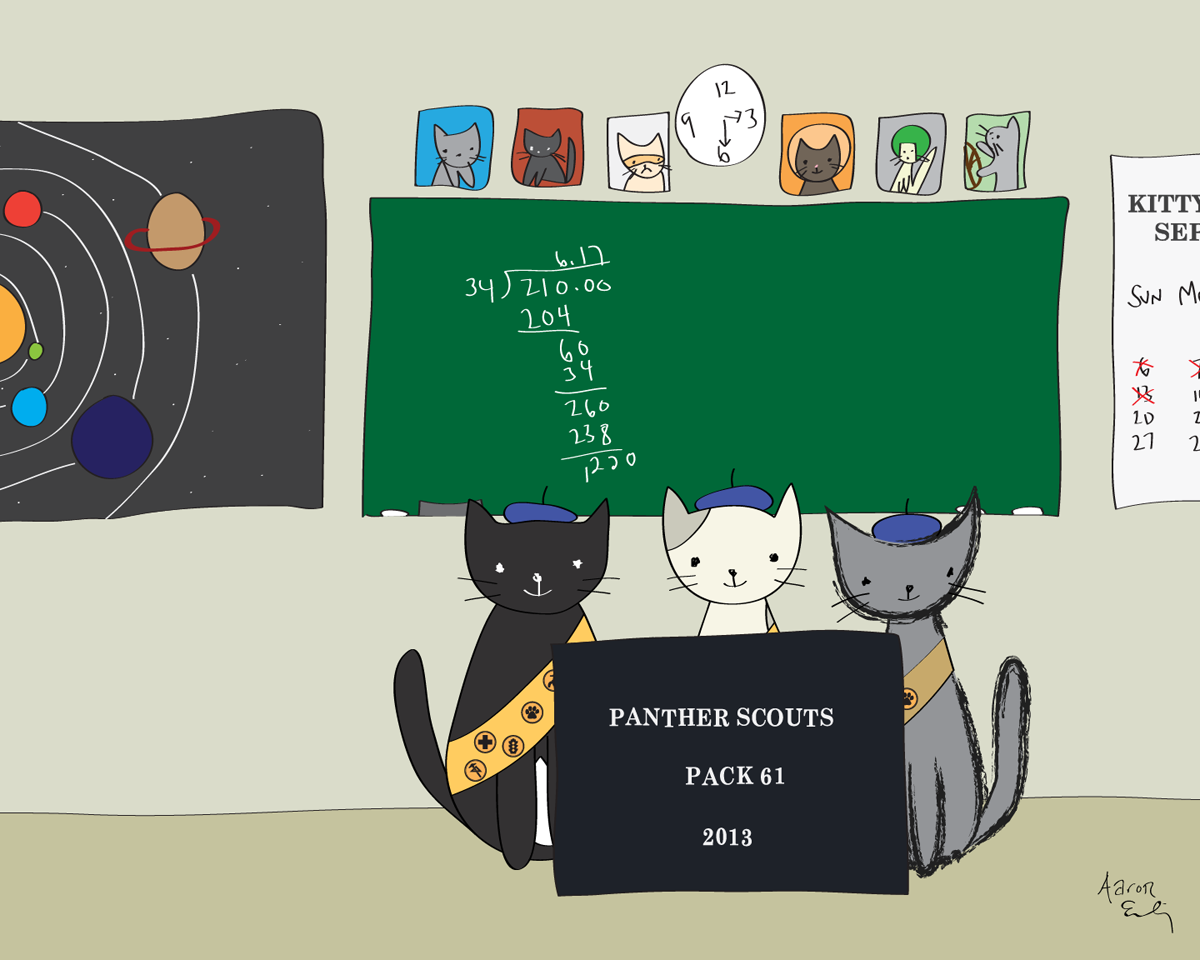 Panther Scouts is the oldest and largest cat youth civic organization in the world, where kittens and young cats learn the skills they need to be the cat leaders of tomorrow. The three cats of Pack 61 have a terrific opportunity in front of them when a new cat joins their school — but only one of them can get the recruitment badge. (Story and art by Aaron Veenstra & Emily Kircher.)
Low res (free): CBZ • PDF • Issuu • Read in browser
High res (99¢): ComiXology • iTunes
---
---
With all the production work done for our first issue, we've been working on getting files prepared to make available via various digital comic stores. Thankfully, every store uses a totally different file format and is really obtuse about how to create and submit content, especially if you're doing a comic instead of a text-based book. So here's what we've come to and how we'll be making the book available.
Most simply, a low-resolution version will be available for free from this site as a PDF or CBZ download (if you don't know what a CBZ is, PDF is the one you want), and will also be readable in your web browser.
The paid version will be high-resolution and will have a little bit of bonus content. This will be available from Comixology — not surprisingly, the easiest place for submitting a comic, using a basic PDF as the source — for 99¢. Comixology can be used through your browser and through dedicated phone/tablet apps, and I recommend it.
It will also be available through the iTunes store, from which you can read it in iBooks on your iPhone or iPad. iTunes uses the ePub format, which is really designed to take the kind of content you might find on the web and make it a standalone book. It looks and reads fine in the iBooks app, but the screen space isn't used as well as it is in Comixology's app, and it's not readable via the web. But if you already have an iBooks library that you're building, it's there.
Finally, a high-res PDF will be available from Etsy. They recently added the ability to sell digital files, so we're testing that out. The PDF can be read anywhere, including in iBooks on your iPad, and ironically it actually looks better to my eye than the native iTunes store version.
The book will not be available from Amazon in single-issue form. The reason for this is that the Kindle Direct Publishing platform doesn't let us price lower than $1.99 (even though established comic publishers are able to sell single issues for 99¢), and I want to keep prices the same. Additionally, the Kindle format requires much smaller images, which means our high-res pages are no-go there. In light of that, we will probably make bigger collections available through Amazon once we have several issues out, but not until then.
I'm investigating the Google Play store, but as far as I can tell they don't sell comics, and I don't have an Android device to test anything on. So maybe in the future. I'm also looking into a pay-what-you-want button here on the site for the high-res version.
We got a couple t-shirts and some promotional cards this week to take to the con in St. Louis, so things are starting to heat up around here!
• • • September 1, 2013 •
---
Production on the first issue is done, and we couldn't be more excited! We're getting it submitted everywhere it needs to go and will have it in your digital hands in September. That month we'll also be visiting PROJECT: Comic Con in St. Louis to start getting the word out and make some connections. We'll be the people wearing Panther Scouts t-shirts and kind of wandering around like we don't know what we're doing.
• • • August 26, 2013 •
---